Open Heaven 2 December 2022 – The Sin Of Ingratitude | Read Free Gospel Message
Open Heaven 2 December 2022 Friday Daily Devotional By Pastor E. A. Adeboye – The Sin Of Ingratitude
Open Heaven 2 December 2022 TOPIC: The Sin Of Ingratitude
MEMORISE: "Because that, when they knew God, they glorified him not as God, neither were thankful; but became vain in their imaginations, and their foolish heart was darkened." – Romans 1:21 (KJV)
READ: Numbers 11:1-20 (KJV)
1 And when the people complained, it displeased the Lord: and the Lord heard it; and his anger was kindled; and the fire of the Lord burnt among them, and consumed them that were in the uttermost parts of the camp.
2 And the people cried unto Moses; and when Moses prayed unto the Lord, the fire was quenched.
3 And he called the name of the place Taberah: because the fire of the Lord burnt among them.
4 And the mixt multitude that was among them fell a lusting: and the children of Israel also wept again, and said, Who shall give us flesh to eat?
5 We remember the fish, which we did eat in Egypt freely; the cucumbers, and the melons, and the leeks, and the onions, and the garlick:
6 But now our soul is dried away: there is nothing at all, beside this manna, before our eyes.
7 And the manna was as coriander seed, and the colour thereof as the colour of bdellium.
8 And the people went about, and gathered it, and ground it in mills, or beat it in a mortar, and baked it in pans, and made cakes of it: and the taste of it was as the taste of fresh oil.
9 And when the dew fell upon the camp in the night, the manna fell upon it.
10 Then Moses heard the people weep throughout their families, every man in the door of his tent: and the anger of the Lord was kindled greatly; Moses also was displeased.
11 And Moses said unto the Lord, Wherefore hast thou afflicted thy servant? and wherefore have I not found favour in thy sight, that thou layest the burden of all this people upon me?
12 Have I conceived all this people? have I begotten them, that thou shouldest say unto me, Carry them in thy bosom, as a nursing father beareth the sucking child, unto the land which thou swarest unto their fathers?
13 Whence should I have flesh to give unto all this people? for they weep unto me, saying, Give us flesh, that we may eat.
14 I am not able to bear all this people alone, because it is too heavy for me.
15 And if thou deal thus with me, kill me, I pray thee, out of hand, if I have found favour in thy sight; and let me not see my wretchedness.
16 And the Lord said unto Moses, Gather unto me seventy men of the elders of Israel, whom thou knowest to be the elders of the people, and officers over them; and bring them unto the tabernacle of the congregation, that they may stand there with thee.
17 And I will come down and talk with thee there: and I will take of the spirit which is upon thee, and will put it upon them; and they shall bear the burden of the people with thee, that thou bear it not thyself alone.
18 And say thou unto the people, Sanctify yourselves against to morrow, and ye shall eat flesh: for ye have wept in the ears of the Lord, saying, Who shall give us flesh to eat? for it was well with us in Egypt: therefore the Lord will give you flesh, and ye shall eat.
19 Ye shall not eat one day, nor two days, nor five days, neither ten days, nor twenty days;
20 But even a whole month, until it come out at your nostrils, and it be loathsome unto you: because that ye have despised the Lord which is among you, and have wept before him, saying, Why came we forth out of Egypt?
BIBLE IN ONE YEAR: Romans 16 – 1 Corinthians 3
Open Heaven 2 December 2022 MESSAGE
Ingratitude is a sin, and many people, including God's children, sin. Ingratitude was the cause of original sin in the Garden of Eden. Before God created man, he made a garden and put everything there. The man just woke up and found abundance everywhere. God said to him The only tree I don't want you to touch is the tree of the knowledge of good and evil.
" Then the tempter came and said to the woman, "Forget all that God has given you and focus on this one thing that you cannot get. Don't give thanks for the rest. ' She obeyed him and ate the fruit, and she ate it for her husband as well. This caused God to cast them out of Paradise, after which they had to work hard to grow food (Genesis 3). Because of their ungratefulness, they lost everything God intended for them in Eden!
It is dangerous not to thank God for everything He has done for you. It would be a shame to focus only on what we don't yet have and ignore all the other benefits the Lord has bestowed upon us.
There was a very rich man who was also a very famous person. Unfortunately he had a stroke — it's like being able to mute male voices. We had a mutual friend who asked me to pray for him. When we got to the hospital, he was sitting on the bed with his wife by his side, and she came out a little. After I prayed for him, he tried to convey a message to us with gestures. It took him about 30 minutes to realize he just wanted to tell us that his wife will be back soon.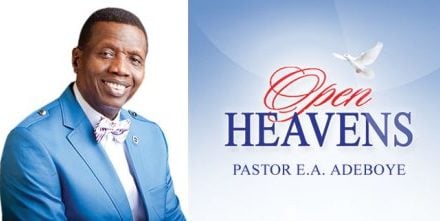 Well, look at you It takes less than 30 minutes to make a simple remark. You can speak, you can scream, you can sing. So why not be grateful for the gifts and blessings that God has given you and trust that He will provide for everything else that He has not yet given you? Read on, forgetting gratitude can lead to ruin. it is a sin. Be grateful for what you have.
Open Heaven December 2, 2022 PRAYER POINTS
Father, I'm sorry for being ungrateful all this time. have mercy on me Go ahead and give thanks for all that God has given you.
Open Heaven 2 December 2022 HYMN 25: To God Be The Glory, Great Things He Hath Done
1 To God be the glory, great things He hath done;
So loved He the world that He gave us His Son,
Who yielded His life an atonement for sin,
And opened the life gate that all may go in.
Refrain
Praise the Lord, praise the Lord,
Let the earth hear His voice!
Praise the Lord, praise the Lord,
Let the people rejoice!
O come to the Father, through Jesus the Son,
And give Him the glory, great things He hath done.
2 O perfect redemption, the purchase of blood,
To every believer the promise of God;
The vilest offender who truly believes,
That moment from Jesus a pardon receives.
3 Great things He hath taught us, great things He hath done,
And great our rejoicing through Jesus the Son;
But purer, and higher, and greater will be
Our wonder, our rapture, wh
The Open Heavens 2022 Daily Devotional Guide was created by Pastor E.A. Adeboye is the general director of the Redeemed Christian Church of God, one of the largest evangelical churches in the world, and president of the Ministry of Christ the Savior. The Open Heavens devotional application is available for all mobile platforms and operating systems.
iOS, Android, Blackberry, Nokia, Windows Mobile, and PC. Open the Heavens for Today in 2022
Naijatrackz Contribution:
God's eternal presence will never be with you until you are born again. To enjoy continuous victories, you must be reborn. Say the following prayers in faith.
Lord Jesus, come into my life. I accept you as my Lord and personal Savior. I truly believe that you died and rose from the dead to save me. Thank you Lord for saving me in Jesus name, Amen.
If you have just prayed the prayer of salvation online, please send your testimony and prayer request to info@rccg.org, +234-1-8447340, +234-0-7098213112.
Kindly give us two minute from your time to follow our social handles... Click on social media logo below to follow...Thanks